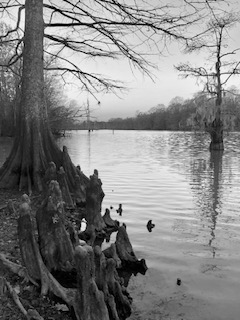 Delta DHI,

Your key awaits at beautiful Horseshoe Lake in Mer Rouge, Louisiana. Our family vacation camp/cabin sits on a quiet dead end gravel road and provides peaceful relaxation and fishing along with a few comforts from home. Cabins are fully furnished with lake access. Fishing, kayaking, canoeing, family fun, fire rings, grills and many other amenities are available on the property (subject to cabin reservation/availability).



Horseshoe offers excellent fishing opportunities for bass, crappie and catfish either by boat or from our dock.



Nearby you with find Poverty Point, Country Cream and plenty of traditional Delta scenery. Horseshoe lake was formed from Bayou Bonne Idee which also offers excellent fishing with a public boat launch less than 2 miles from our cabin. Horseshoe has a privately owned launch less than 1 mile from the cabin for a nominal fee. We do not recommend swimming as this is a cypress lake without any cleared areas for swimming and is host to many woodland and water creatures.

Delta Rouge

1 bedroom, 1 bath with a large family or meeting room.



Delta Jade

Rustic log Cabin with loft (221 square feet), sleeps 4, efficiency kitchen, 1/2 bath with outdoor shower, large outdoor living space with 30 foot of dock with a large fishing platform.



Delta Sunn

1 bedroom tiny house (384 square feet), sleeps 3 with a small outdoor space. Interior is beautifully laid out with separate bedroom, washer/dryer and kitchen/living combo.



Delta Breeze

Colonial style tiny house (480 square feet) 1 bedroom, 1 bath. Features large front porch, king size bed, full kitchen/living space and washer/dryer.



Delta Bleau

Coming Soon



Delta RV

4 RV sites are available on the property with 30/50 amp hookups and water.

We want to share our family/vacation homes with families wanting to disconnect, slow down or spend quality time in a beautiful, peaceful setting where memories are made. If you love camping, this is your relaxation opportunity to enjoy that getaway without sacrificing comfort, whether you bring your own RV or rent one of our unique cabins. This is your getaway ticket for the long weekend.

Delta DHI Getaway
12036 Kiwi Drive
Mer Rouge, LA 71261



Or e-mail: Pattydoles@4dhi.com
Email us or find us on Facebook at Delta DHI
Delta DHI LLC